Cabbage, Corned-Beef, and Potatoes—What Could Go Wrong?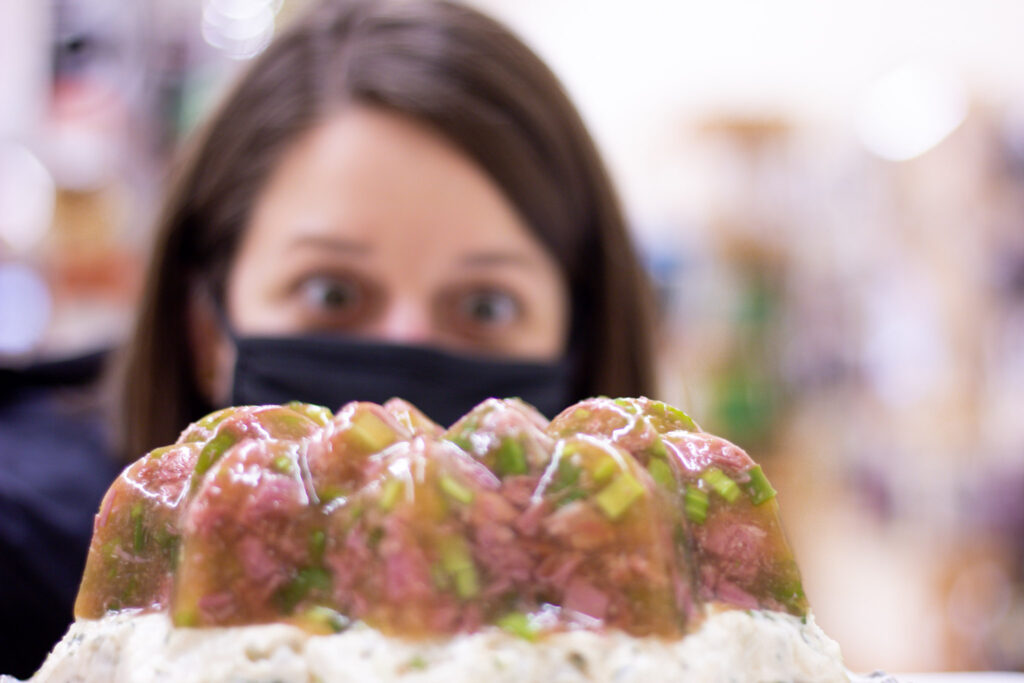 "Why?"
"Dear God, why do they use so much mayonnaise?"
Eyebrows raised, the staff at The Carrot Seed Kitchen Co. had plenty of questions to ask while reading through some of the 1960s & 1970s cookbooks left behind in The Carrot Seed's cookbook exchange basket. But I was fixated. I flipped page after page wondering how in the world the foodies before me brought themselves to suspend so much in unflavored gelatin and mayo, and serve it to guests with delight. After a few hours of scanning the recipes in disbelief, I thought to myself, "Just how bad are some of these vintage recipes? They can't be that bad!" So, I settled on the dish that seemed to have it all–gelatin, canned meat, mayonnaise, vinegar, and almost too much celery–and convinced Kirsten to try it with me.
The recipe in question? The Molded Corned-Beef Ring.
The Molded Corned-Beef Ring can be found in the "Family Circle Illustrated Library of Cooking, Vol. 11", published in 1972, where it is described as "Three favorites–corned beef, cabbage, and potatoes–go fancy in their summery salad". I am no stranger to jello salads, myself. With a very proud midwestern family, we celebrate every major holiday with a 7-Layer Jello Salad or, the quicker counterpart, a Mandarin Lime Jello Salad. But this recipe was enchanting; something else entirely. With two separate layers, The Molded Corned-Beef Ring called for unflavored gelatin, beef-bouillon, cider vinegar, canned corned-beef, raw celery, raw green pepper, all prepared and sat on top of a potato salad layer complete with potatoes, cabbage, parsley, and lots of sour cream & mayonnaise.
Kirsten and I set a date, made a grocery list, and prepared our hearts & minds to be changed by this antique culinary masterpiece. We were ready and very little could stop us from accomplishing our molded ring dreams. We hit a slight snag at the grocery store shopping for canned corned-beef but we didn't let the unavailability of the main ingredient slow us down. Like any reasonable person would, we settled on asking the deli section for thick slabs of corned-beef we could chop and smash later.
The day of our fated gelatin adventure I woke up early to chop and boil potatoes, scavenged through my fridge to find the horseradish I hardly use, and collected a few more odds and ends for the journey. Once in Kirsten's kitchen, we began chopping the raw vegetables, still somewhat hesitant to prepare the beef-bullion gelatin mixture, and giggling realizing the absurdity of our task at hand.
"What in the world are we doing?"
After a good laugh and final acceptance of how ridiculous this idea was, we finished prepping our ingredients and began following the Molded Corned-Beef Ring instructions. We stirred together gelatin, water, sugar, and bouillon until dissolved. We then mixed in what felt like an inaccurate amount of apple cider vinegar, half a cup. The steaming vinegar permeated the room while Kirsten got busy chopping and mashing (yes, the recipe called for mashing) the corned beef.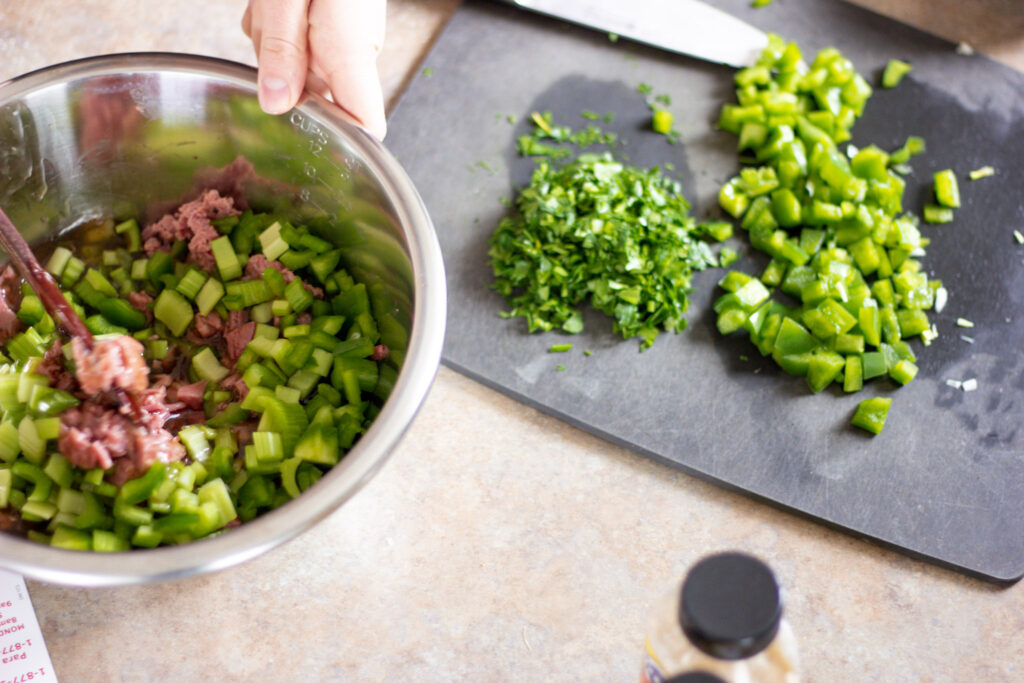 Per direction, we set the gelatin mixture aside to let chill "until as thick as an unbeaten egg". As the vinegar beef jello rested, we got busy with the Potato-Salad Layer. Mixing the potatoes, cabbage, onion, fresh parsley, mayo, and sour cream was easy enough and felt comfortably familiar.
Finally, the gelatin mixture was set enough to begin building the layers of our molded ring. We combined the mashed corned beef, raw celery, green pepper, and horseradish lightly with a fork and poured all but 3/4 cup of the gelatin mixture (which was poured into the potato salad) into the bowl. Kirsten brought out her Nordic Ware Vintage Star bundt pan and we anxiously spooned the corned-beef mixture into the mold. After an hour of waiting, the Corned-Beef Layer was perfectly "sticky-firm" as the recipe called for and we spooned the potato salad gelatin concoction into the mold.
We said one final "What have we done?" and proceeded to wait 4 hours.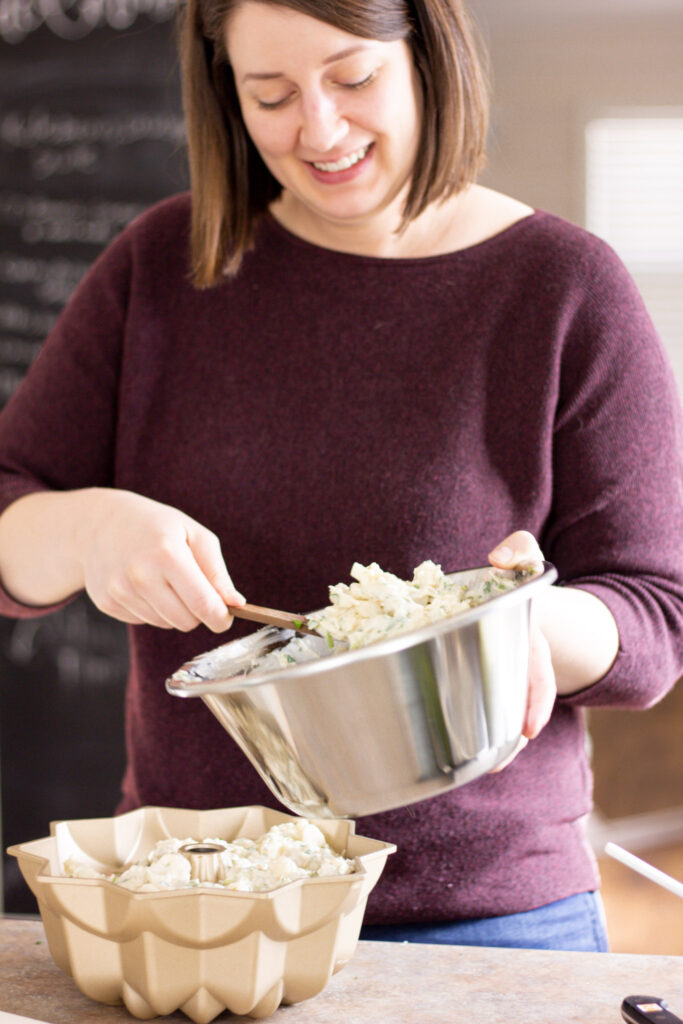 What happens next is to be expected.
After 4 hours of chilling in the fridge at The Carrot Seed Kitchen Co., Kirsten and I pulled out the bundt pan filled with beef and veggies suspended in gelatin, quickly dunked it in hot water, and flipped it onto a plate. I will never forget the noise the Corned-Beef Ring made as it escaped the mold–like a cartoon suction and plop sound effect. With a small audience, we dished ourselves each a serving and dove straight in.
Surprise, surprise–It wasn't good. The vinegar was overwhelming, the celery overbearing, and overall it was completely under-seasoned. After convincing ourselves to give it a chance with a few more bites, we retired our servings and began to convince a few unsuspecting friends to try. Maybe we were just judgemental because we had to make this shiny jiggly monstrosity. All our friends agreed, though. It was not good.
Despite the recipe being unenjoyable to consume, Kirsten and I still left the experience with a huge smile on our faces. We had explored the darkest depths of suburbia's culinary past and we felt accomplished no matter how unappetizing the result. My fixation with vintage jello salads is now appeased and I can walk away confidently knowing that yes, indeed, the 1960s/1970s recipes that seem bad are, in fact, bad.
We applaud those before us who innovated in times of need, but we ended this journey so thankful for just how far our food has come in the last 50 years.