Gouda Stuffed Chicken Breast with Ginger Blackberry Sauce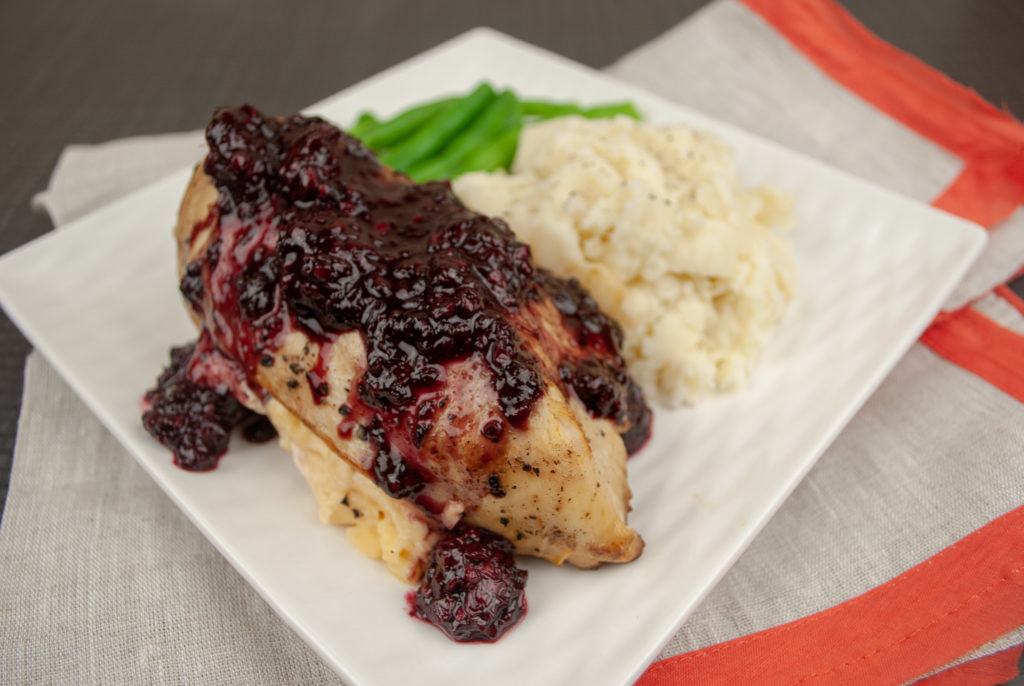 South Dakota has incredible berries! We are lucky in Brookings to be close to Sanderson Farms and their delicious pick-your-own strawberries and raspberries. However, when it's not summer, fresh berries can get crazy expensive, like $6 for a 6 oz container of blackberries. That's nuts but makes sense as the berries need to be flown or trucked in quickly at the peak of freshness as they don't stay ripe for long. Now imagine my shock when I saw containers of blackberries available at a Brookings grocery store for only 69 cents. I bought four and have been savoring every single berry, including using a container for this herby, bright, and just sweet enough blackberry sauce served over a savory Gouda cheese stuffed chicken breast.
Print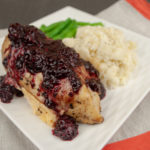 Gouda Stuffed Chicken Breast with Ginger Blackberry Sauce
---
Ingredients:
4

small chicken breasts, about

6 ounces

each

4 oz

smoked gouda cheese

1/2 tbsp

butter

6 oz

fresh blackberries

2 tbsp

red wine

1 tbsp

sugar

1 tsp

ginger root (I use the pre-grated kind that comes in a jar or tube.)

1/2 tsp

thyme

1 tsp

lemon juice
Water as needed
Salt & pepper
---
Instructions
Preheat oven to 425 degrees. Pat at chicken breasts dry. Season with salt and pepper on both sides. Cut a slit in the side to make a pocket into the chicken breast. Stuff 1 ounce of gouda into each chicken breast pocket. Use tooth picks to seal the hole shut so cheese doesn't melt out.
Heat a large oven-safe cast iron or stainless steel skillet on the stove over medium heat with the butter. Sear both sides of all chicken breasts in pan at the same time, about 3-4 minutes per side, until golden brown. Cover pan with foil and place in oven for about 15 minutes or until thermometer inserted in the center of the breasts reaches 165 degrees.
Meanwhile, put blackberries, red wine, and sugar in a small sauce pan with lid over medium low heat. Heat with lid on until sugar is melted and berries begin to break down, about 10 minutes, opening lid to occasionally stir and check. You are basically steaming the juices out of the berries. Once berries begin to break down, reduce heat to low and add ginger, thyme, and lemon juice. Stir together until heated through, pushing berries against the edge of the pan to further break down. If sauce gets too dry or thick, add water. Season with salt and pepper to taste.
When chicken is done, let rest briefly and remove toothpicks before moving to plates. Top with a generous spoonful of sauce. This is delicious served with green beans and mashed potatoes or wild rice.
---