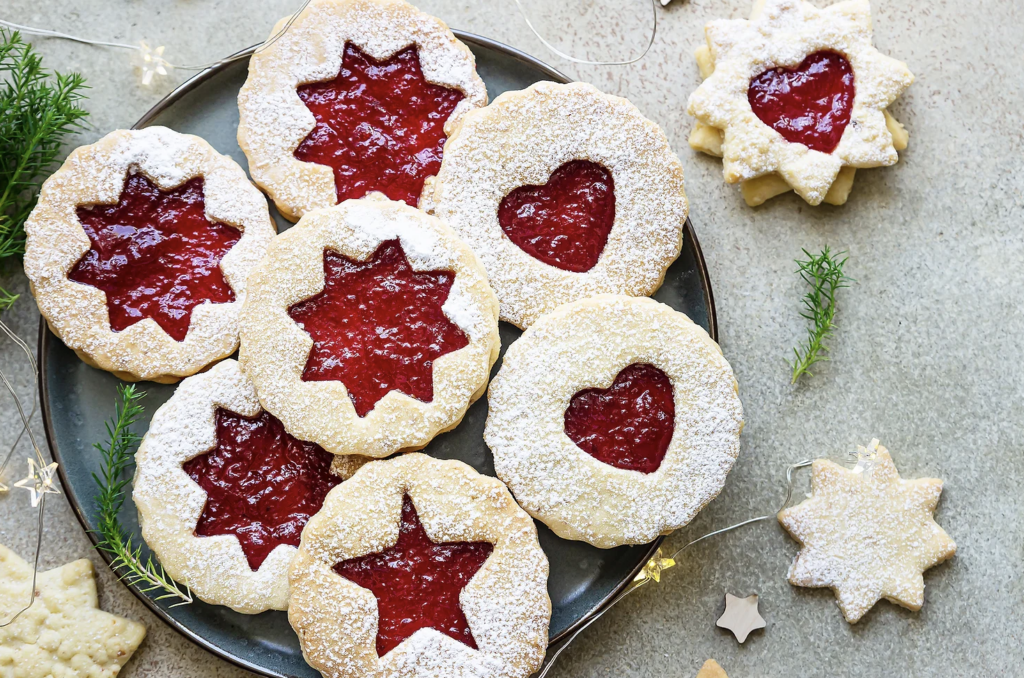 Created in Austria back in 1653, this decadent cookie was originally a tart, baked like a pie. Since then, this traditional European dessert has evolved into what is now known as the Linzer Cookie. Its fruity center bordered by a buttery, flakey crust has become a winter favorite all across the Western hemisphere.
Print
---
Description
An Austrian shortbread dessert filled with berry preserves, dusted with powdered sugar makes for a perfect Christmas dessert.
---
1 1/2 cups

unsalted butter, room temperature

1/2 cup

granulated sugar
Zest of

1

lemon

1

large egg yolk

1 teaspoon

vanilla extract

1 1/3 cups

Unbleached All-Purpose Flour

3/4 cup

almond flour

1/4 teaspoon

fine sea salt
Strawberry or raspberry preserves
Powdered sugar for dusting
---
Instructions
Cream the butter, lemon zest, and granulated sugar for about 2 minutes. Add the egg yolk and vanilla and cream until just combined.
In a separate bowl, sift the flour, almond flour, and salt. Gradually, add the flour mixture to the wet ingredients and beat together. Don't over-mix.
Separate the dough into two balls. Flatten the balls into a disc. Wrap in Saran wrap. Refrigerate for about an hour, or until dough is firm.
Remove dough from refrigerator and allow it to slightly soften (about 7 minutes). The dough will be chilled still, but you should be able to roll it. Flour a counter surface and roll one dough disc until it is approx. 1/8 inch thick. Using a 2 1/2″ round cookie cutter, cut out the cookies. Line a cookie sheet with parchment paper and arrange the cookie dough on the sheet. Ball up the scrap dough, roll, and repeat the cutting process until no dough remains. Work quickly so the dough doesn't get sticky. (If it does, simply chill in the refrigerator for another 20 minutes.)
Preheat the oven to 350 degrees. While the oven is preheating, put the cookie sheet of cookies in the refrigerator for at least 30 minutes.
While your first batch of cookies are cooling, roll and cut the remaining dough into 15 cookies. Transfer to another baking sheet. Using a tiny cookie cutter (an end of a piping tip will work as well), make a hole in the center of each cookie (like a donut). Now place this cookie sheet full of cookie dough in the refrigerator to cool for 30 minutes.
Bake all of the cookies at the same time for 12-15 minutes. The edged should just be turning a golden brown. Allow them to cool for 5 minutes on the pan, and then move them to a cool rack to cool completely.
Place the donut-looking cookies on a cooled cookie sheet and dust them with powdered sugar using a sifter. Turn the remaining cookies flat side up and spoon 1/2 teaspoon of jam into the center – spreading it on slightly. Place the sugar-dusted cookies on top. Enjoy!
---
Notes
Recipe courtesy of Learning How To Cook.