Nutritious Summer Strawberry Snacks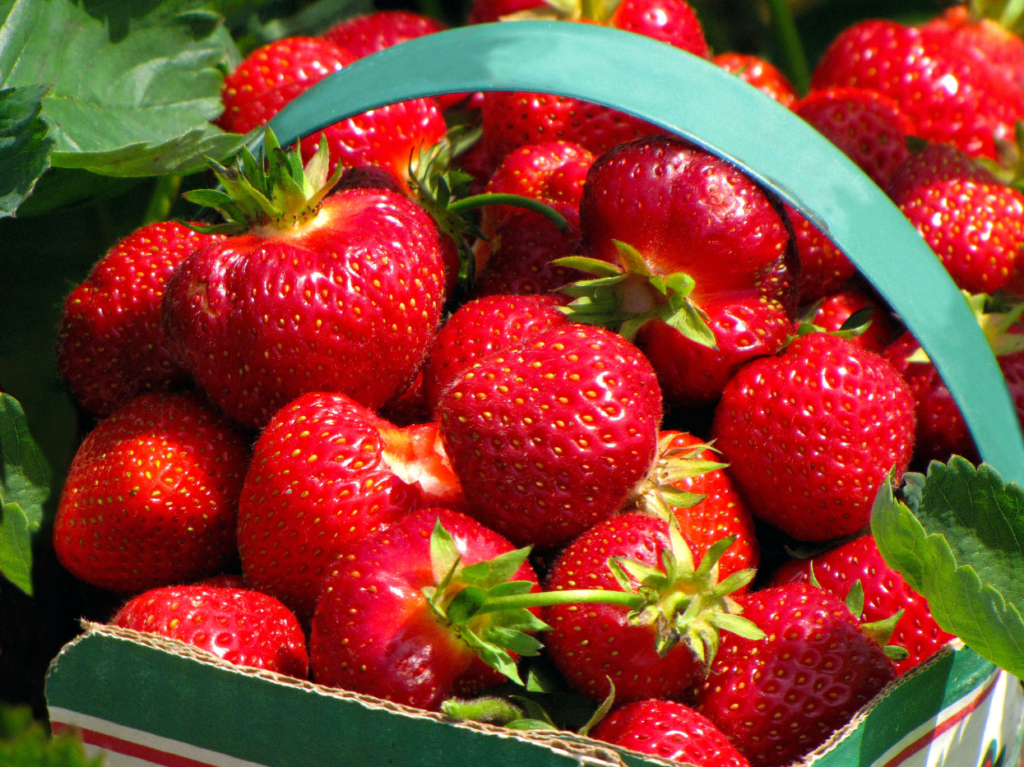 Guest post by Trish Noyes, Registered Dietitian and Licensed Nutritionist
Summer is such a nostalgic season of the year full of making memories with friends and family, enjoying the sunny weather, embracing a little less routine, and one of my personal favorite attributes – peak season of the best fruits and veggies! With all the aforementioned qualities, summer is a great time to create new and share old traditions – in and out of the kitchen. One of my favorite summer traditions is picking strawberries at Sanderson Gardens.
If you haven't gotten the chance to visit, Sanderson Gardens is fun for all ages. This 30-acre garden just outside of Aurora, SD offers a pick-your-own produce experience including asparagus, rhubarb, strawberries, raspberries, and pumpkins each year. There's something about the process that makes you appreciate and enjoy the produce even more when you get to pick it yourself.  
Getting your kids to eat and enjoy fruits and vegetables can, at times, feel like a daunting process. In the words of Marie Kondo, "it does not spark joy." As discussed above, Summer is an exciting opportunity to introduce fruits and vegetables at their peak moments of flavor. Below, I'll outline a few additional tips to get your kids trying and enjoying new foods!
Don't sweat it. Pressure in a positive or negative way will always backfire. Meal and snack time should be an enjoyable experience for all – keep food and food offerings neutral, like the Swiss. Some research shows it can take 15-20 introductions of a new food for a child to feel familiar enough with it to give it a try. It could take an additional 10-20 re-introductions of that same food for them to decide if they like it or not.
Plant or visit a garden! Gardening has been known to help kids improve their mental and physical health, including their willingness to try more fruits and vegetables! Limited on space? Get creative with a container on a patio or a well-lit space in your home. Not a green thumb? Take advantage of local community gardens or a visit to a pick-your-own-produce spot!
BYOK (bring your own kids) to your local farmer's market or the produce section of your grocery store. Farmer's markets are a great way to connect the dots from farm to table. Your local produce section can offer your kids an exploration of color, textures, and flavors! Pick out a recipe together and go on a treasure hunt to find the fruit or vegetable at the grocery store. Bonus points if you can get them involved in the cooking process!
Getting kids involved in not only the selection, but preparation and cooking process only boosts their odds of trying and enjoying the fruits of their labor. (pun intended) Below are a couple fresh and fun recipes to try that are kid friendly and adult-approved, packed with fiber and protein!
Strawberry Pinwheels
Ingredients:
1 whole grain tortilla
2 tbsp. low-fat cream cheese
2 tbsp. vanilla Greek yogurt
Dash of cinnamon
4 fresh strawberries, sliced
Directions:
In a small bowl, mix the cream cheese, Greek yogurt, and cinnamon together.
Using a spatula, spread the yogurt mixture on the tortilla.
Spread your sliced strawberries atop the yogurt mixture.
Roll your tortilla and slice into pinwheels.
Enjoy!
Summer Strawberry Parfait
Ingredients:
6 oz. Vanilla Greek Yogurt
½ cup sliced strawberries
Optional mix-in's: ¼ cup granola, 1 tbsp chopped nuts, dash of cinnamon
Directions:
In a small bowl or mason jar, layer the yogurt and strawberries.
Top with your favorite mix-in's such as granola, chopped pecans or pistachios, and a dash of cinnamon!
Prep ahead and have ready for a quick grab and go breakfast in the morning!