The Best Butternut Squash Soup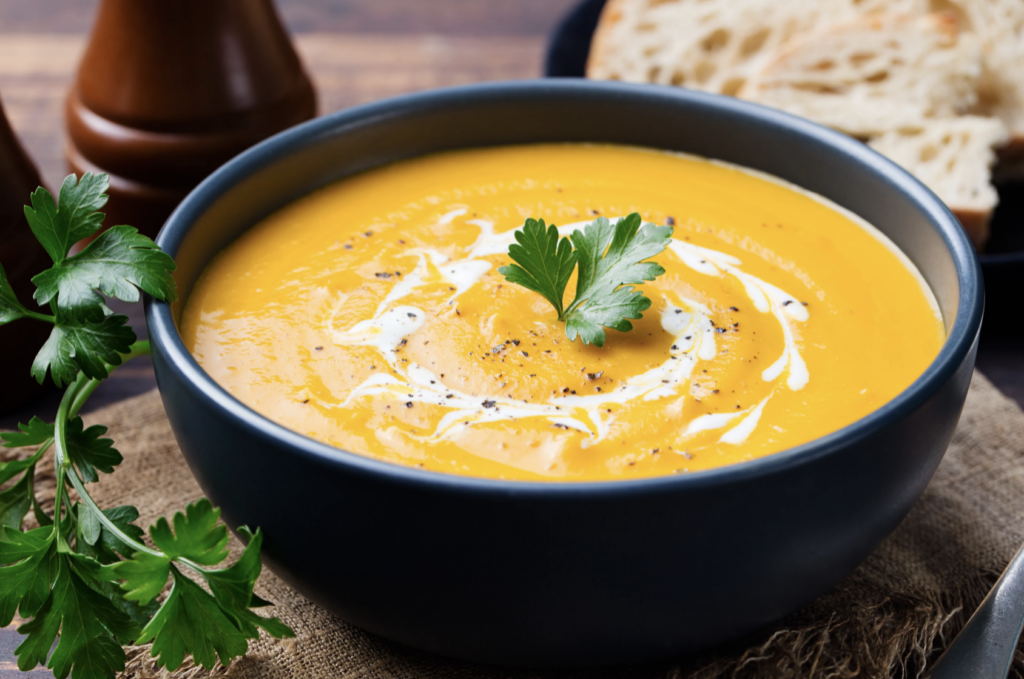 Fall is one of the best times of the year with its crisp, cool air and beautiful changing leaves. With cooler weather coming into town, almost nothing tastes as comforting as a piping hot bowl of butternut squash soup. With perfectly seasoned roasted vegetables mixed with cream, this heart-warming recipe is sure to give you all the fall feelings.
Print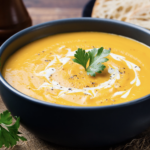 The Best Butternut Squash Soup
---
Description
Roasted butternut squash in this creamy soup bring all the comforts of fall into your home.
---
3 pounds whole butternut squash halved lengthwise and seeds removed
2 carrots peeled and cubed
1/4 cup olive oil
2 teaspoons salt
1 teaspoon cracked black pepper to taste
1 large onion cut into slices
6 cloves garlic minced
3–4 cups chicken stock or broth
2 beef or chicken bouillon cubes crumbled
1/2 cup cream (can use half and half for lighter soup)
---
Instructions
Preheat oven to 400 degrees, and spray a large baking pan with non-stick spray.
Cut butternut squash in half and remove seeds. Place squash with skin-side down. Put garlic, carrots, and onion around the squash on the pan.
Drizzle olive oil all over the squash and veggies, rubbing them as you go. Make sure you rub some oil on the inside of the squash as well. Season with salt and pepper.
Flip the squash over (skin-side up now), and rub the oil on the skin. Season with salt and pepper.
Roast the squash until tender – about 55 minutes or less. Poke with fork to test the tenderness.
Let the squash cool for 10 minutes, then scoop squash flesh from the skin.
In a blender, place the roasted veggies from the pan, the chicken stock, and bouillon cubes into a blender. Blend until smooth. If your blender isn't big enough for all the ingredients at once, blend in batches.
Transfer soup mixture into a pot. Turn the stove temperature to medium and warm soup.
Mix in the cream. For additional flavor, add in a pinch of ground cinnamon or nutmeg. Serve immediately. Enjoy!
---
Notes
Recipe courtesy of https://www.learninghowtocook.com/post/the-best-butternut-squash-soup