California Veggie Sandwiches
What truly brings this sandwich together is the pickled vegetables. Just a simple combination of chopped vegetables, vinegar, sugar and a little seasoning that marinates together in your fridge until ready to eat. No cooking, no canning – just vegetables submerged in a simple mixture that takes your sandwich to the next level.
The combination of the fresh cucumber, crisp lettuce, creamy avocado and mozzarella paired with the punches of flavor from the aforementioned pickled veggies and garlic mayo make this healthy lunch truly crave-able and filling.
Print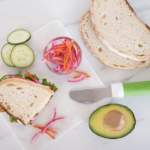 California Veggie Sandwiches
---
Description
Super fresh and brimming with avocado, pickled veggies and mozzarella cheese, you can't go wrong – and you definitely won't go hungry.
---
Fresh Veggie Pickles
1 cup

White Vinegar

1/2

Lemon, juiced

1/4 Cup

White Sugar

2 Tablespoons

Kosher Salt

1/2 cup

Carrots, Grated

1 cup

Red Onion, thinly sliced

1/2 cup

Sweet Peppers, thinly sliced
Water
For the Quick Roasted Garlic Mayo
1

head Garlic

2 tablespoons

Olive Oil

1/2 cup

Light Mayo

1 tablespoon

Lemon Juice
For the Sandwich
1

Avocado

1/2

Lemon, juiced

8

slices Sourdough Bread

1

Cucumber, thinly sliced
Butter Lettuce, shredded

6 oz

Mozzarella Cheese
Salt and Pepper
---
Instructions
Prepare the fresh veggie pickles:

In a sealed container, toss together the carrots, red onion and sweet peppers. In a medium bowl, whisk together the lemon juice, white vinegar, white sugar and kosher salt. Pour over vegetables in container, topping off with water to be sure the veggies are covered with liquid. Cover with sealed lid and refrigerate 1-2 hours before using.

For the roasted garlic mayo:

preheat oven to 400 degrees. Slice the top off the head of garlic to reveal the cloves inside (slicing in half is too far, just enough to remove the stem and reveal some of the cloves inside). Place on top of a piece of foil and drizzle with 2 tablespoons olive oil. Use the foil to completely wrap the garlic and place on a sheet tray in the oven. Roast until cloves are golden brown, about 30 minutes. Remove from foil and allow to cool completely. Chop all of the cooled garlic cloves finely.

In a food processor (or in a medium bowl with a whisk), blend together the roasted garlic, light mayo and lemon juice.

Assemble the sandwich:

In a small bowl, mash together the avocado and lemon juice; season with salt and pepper. Divide mixture amongst 4 slices of sourdough bread. On the other four slices, generously brush with roasted garlic mayo.

Layer cucumber, shredded lettuce, veggie pickles and cheese on top of the avocado and top with the slice of bread brushed with mayo. Serve.
---
Notes
Recipe courtesy of Learning How to Cook, https://www.learninghowtocook.com/post/our-new-lunch-time-fav-california-veggie-sandwiches