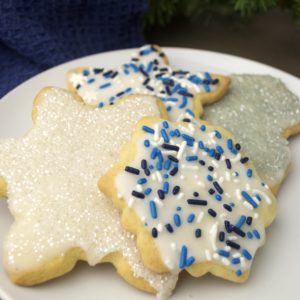 Submitted by Heidi Sackreiter.
Makes approximately four to five dozen (depending on shape or size of cookie).
1 1/2 cups powdered sugar
1 cup unsalted butter, softened
1 teaspoon vanilla
1 egg
2 1/2 cups all-purpose flour
1 teaspoon baking soda
1 teaspoon cream of tartar
Beat powdered sugar and butter in a large bowl with electric mixer or mix with spoon. Stir in vanilla and egg. Stir in flour, baking soda, and cream of tartar. Cover and refrigerate about two hours.
Heat oven to 375 degrees. Roll sections of dough approximately 1/8 inch thick on lightly floured surface. Cut into desired shapes. Place about two inches apart on ungreased cookie sheet. Bake seven to eight minutes or until light brown. Remove from cookie sheet to wire rack.
Decorate with white icing once cool (see below for recipe) and colorful sugars or sprinkles.
White Icing
2 cups powdered sugar
2 tablespoons light corn syrup
2 tablespoons lemon juice
1 to 2 tablespoons warm water
Mix together well and until smooth. May adjust as needed to create the right
consistency and amount desired.