Pot de crème is a French custard that is so decadent and so rich, you'll be satisfied with just a few bites. This recipe is designed for a couple as a special occasion dessert but you can split it into smaller servings that will still be an incredibly enjoyable ending to a nice meal with 3-4 people. We used a 50-60% dark chocolate, but feel free to experiment with the types. The whipped cream, chopped chocolate, finishing salt, and raspberries are optional garnishes that add delightful layers of flavor.
Print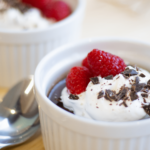 ---
Description
Pots de crème are the ultimate indulgence for a Valentine's Day dinner for two.
---
Pots de Crème
1 cup

cream

1/4 cup

whole milk

3 ounces

dark chocolate (separated into

2.5 ounces

and .

5 ounces

)

3

egg yolks

2 tbsp

sugar
Whipped cream (recipe below)
Raspberries (for garnish)
Finishing salt (for garnish)
Whipped cream:
---
Instructions
Pot de Crème
Preheat oven to 325º. Add cream and milk to a small saucepan over medium heat. Cook, stirring occasionally, until the very start of a simmer. Meanwhile, chop the 2.5 ounces of chocolate into smaller chunks. When milk mixture is just starting to simmer, remove from heat and stir in chopped chocolate. Stir until well melted. Set aside.
In a medium bowl, whisk together egg yolks and sugar. Very slowly add the chocolate mixture, whisking well to incorporate. Pour mixture through a fine-mesh strainer into a clean bowl, to catch un-melted chocolate and bits of cooked egg. Skim off foam, if any.
Pour mixture into two small ramekins, around 8 ounces. Cover with foil. Add ramekins to a baking pan and fill with water until halfway up the ramekins. Place in oven for 60-70 minutes. Pots are done cooking when there is just a small jiggle in the middle of the ramekins. Remove from oven and place ramekins in the fridge for three hours.
Meanwhile, make whipped cream (recipe below). Finely chop the remaining .5 ounces of chocolate. Top chilled pots de crème with whipped cream, chopped chocolate, finishing salt, and raspberries. Serve with a spoon and a hot cup of coffee.
Whipped cream:
Add cream to a medium bowl. Using an electric hand mixer with whisk attachment, whisk cream until stiff peaks form.
---